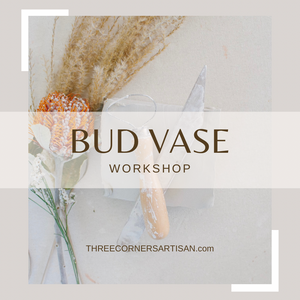 Bud vase workshop
Regular price $75.00 Sale
I have a beautiful vision for this workshop…
We will be outside in my backyard with many floral inspirations. 

You will have a couple pounds of clay each, tools and texture to create sweet little bud vases.
We will be using pinch pot techniques with my guidance but you will have lots of creative freedom~
You can create as many sweet pots as you like from your ball of clay, in whatever inspired shapes come to you.
We will use beautiful, soft porcelain clay. Your vases will be fired either a matte white or clear gloss by me and ready for pick up in approximately 2-3 weeks.
time: 7-8:30pm
location: TCA Studio, Sardis Chilliwack BC
date: June 29th 
*please note this workshop is non refundable but exchangeable or transferable.
* your art can be shipped for $17+tx or pick up at my studio.